PROFILE
Junior Adriatic League 2018 - November 2018
By Luka Drca
6'10 center with wide shoulder and solid body frame. This kid averaged 14 points, 6.5 rebounds per game in 27 minutes of action. Solid athlete that runs the floor well for a big guy. Pretty long arms and good shot blocking abilities (2.5 per game). Soft touch and good shooting mechanics. He shot some threes this tournament but as a right now that is not his strength. Can shoot mid-range with high percentages. Improved from last year but he still needs to work on playing and finishing through contact, doesn't get on free throw line often. His baskets are mostly assisted. Needs to improve his post game, if he improves his body strength he will be hard to guard in the post. Defensively he uses his length but struggles to guard stronger players. Overall this kid is going the right direction and has potential.


Junior Adriatic League - November 2017
Matkovic didn't have a major role for his team, playing only 16 minutes per game, but his impact was important in his minutes on the court, and he's surely the most intriguing prospect in this Cedevita team.
A tall, mobile big man with still skinny and undeveloped body, Matkovic has impressive footwork for his size and moves very well without the ball. He can easily defend the P&R and recover with good timing, being quite effective the few times he had to switch on a smaller player.
A smart big with good touch inside, he was able to finish P&R plays and showed potential to further develop his offensive game. He keeps the ball high after the catch, either on the P&R and off offensive rebounds. His IQ is developed for a player his age, he shows good spacing and awareness in the halfcourt and has solid passing instincts.
He's not a shooter at this stage of his development, as he finished the tournament with not a single three point attempt and poor efficiency from the free throw line; but his form looks smooth and promising, and during warm-ups he was hitting threes at a decent rate.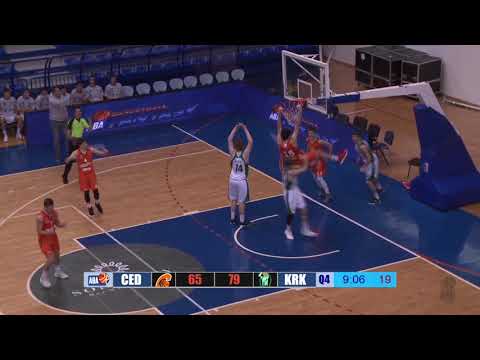 HISTORY
2016/17: Cedevita Zagreb (Adriatic League, Croatia)
2017/18: Cedevita Zagreb (Adriatic League, Croatia)
2018/19: Cedevita Zagreb (Adriatic League, Croatia)
2019/20: OKK Belgrade (Serbia), loaned by Mega Belgrade (Adriatic League, Serbia)
2020/21: Mega Belgrade (Adriatic League, Serbia)
2021/22: Mega Belgrade (Adriatic League, Serbia)