PROFILE
L'Hospitalet Tournament - January 2020
By Albert Robledillo
After a slow start, Savkov was terrific in the final day against the NBA Academy. Has one of the most intriguing bodies of his generation: still undeveloped, wide shoulders and a great size for his position. A great shooter both off the catch and off the dribble. Has a fantastic pull-up. Showed potential as a passer with great reads (7 assists in the last game). His lack of strength in upper and lower body limits his scoring abilities in the lane but has a soft touch. Needs to improve urgently in defense where he can't sit down and slide, showing no attention at all. His energy as a rebounder also comes and goes.


Basketball Without Borders 2019 - June 2019
Very skinny forward who had a solid showing in Riga, winning the Three Point Shooting Contest. He's still extremely undeveloped from a physical standpoint, something which doesn't help his explosiveness either, but has good size and length for his position. Didn't show much in games besides his spot up shooting, mainly standing on the wing or in the corner to hit shots off the catch. He has decent ball-handling skills for his size though, despite being very limited as a slasher because of his skinny body and his tendency to settle on jumpers.


U18 Spanish Championship - May 2019
By Biel Colominas
Wing with intriguing frame but still undeveloped body. Average athlete, but he has excellent coordination, body control and footwork. He has above-average ball-handling ability given his size: can handle and drive with either hands, he changes direction really well, and he has excellent ability to use hesitations. He lacks explosiveness to blow by his man though. Savkov has high feel for the game: he is really smart using pump fakes, he knows how to use his body and length to score, he has great court vision while driving. Solid and consistent shooting mechanics, with fluid release. Even though, it could be quicker and his shot comes out a bit flat. He lacks explosiveness on his lateral mobility at the time to guard quicker players. Averaged 15,7 points per game, with great shooting percentages from the field (75%) and beyond the arc (39,1%).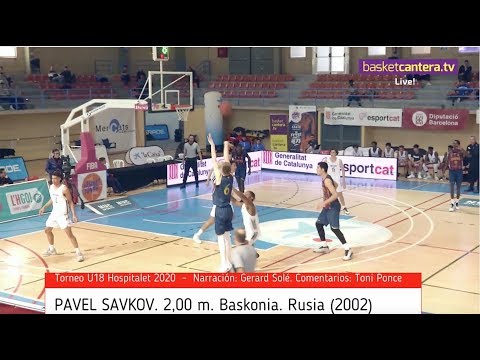 HISTORY
2017/18: Dynamo Moscow (Russia)
2018/19: Baskonia (ACB, Spain)
2019/20: Baskonia (ACB, Spain)
2020/21: Iraurgi (LEB Plata, Spain), loaned by Baskonia (ACB, Spain)
2021/22: Iraurgi (LEB Oro, Spain), loaned by Baskonia (ACB, Spain)