PROFILE
Adidas Next Generation Tournament Valencia - December 2019
By Biel Colominas
A minor ankle injury limited his playing time in in the first two games, but he was fundamental for Gran Canaria in the important games. Diop is an imposing big with huge body who has above average mobility for his size. He is extremely difficult to stop near the basket, where he uses his strength and solid footwork to create space and score over his defender. However, he needs to improve his skillset and touch inside the paint. He showed some flashes of some mid-range game, still not consistent though. On defense, his mobility allows him to slide decently on the perimeter; and he brings huge intimidation with his good shot blocking instincts coming from the weak side.
Global Jam - December 2019
His physical dominance is out of question. Strong in the lower and the upper body, played against bigs (Stoilov, Levy) and any of them could move him in the post. Athletic enough, has a great size and mobility for a big. Can slide thanks to his quick feet which makes him a good helper from the weak side but his hip stiffness limits him switching and guarding small players. Tremendous rebounder: has a high desire and mobility to attack on the offensive board and work, size, strength and instincts to protect the defensive. On offense, he is an improved passer executing and making reads; still has some issues posting up. Has potential as a pick and roll man because cuts quickly and is athletic enough but doesn't set the screen properly.
FIBA U19 World Cup - July 2019
Senegal featured a big roster with a shortage of perimeter players, being forced to play with lineups too big and slow where the spacing was greatly sacrificed. A context like this was not the ideal situation to shine for their prospects, and Diop had his fair amount of troubles while playing most of the time with another center next to him. He showed his best things on the defensive end, where his impressive combination of footwork, strength and length allows him to easily be a huge factor at this level of competition. On offense he didn't show major skills, finishing mostly close to the rim out of power moves, but his motor and rebounding presence were remarkable. His shot is not reliable yet, lacking consistent mechanics and displaying below average touch so far, but has some potential to expand his shooting range.
U18 Spanish Championship - May 2019
By Biel Colominas
Massive big man, with body ready for the professional level. He is explosive and very quick for his size, moves fluid on the court. He has an impressive ability to score with dunks from a stand still position under the basket. His footwork and quickness allow him to blow by his man in the low post game. His touch at the rim has to improve with both hands though. He runs the floor really well, and he is usually faster than his opponent. He showed some flashes of shooting from mid-range with good elevation, but he has poor touch and form is not good at all. Active under the offensive glass, scoring as a catch-and-finisher and grabbing offensive boards. He can switch on screens and stay with smaller players thanks to his quick feet and he knows how to use of his length. Amazing instincts as a shot blocker coming from the weak side. Averaged 16,5 points, 9,5 rebounds (3,3 offensive) and 1,5 blocks per game. He shot 54,3% from the field and 76,6% from the free throw line.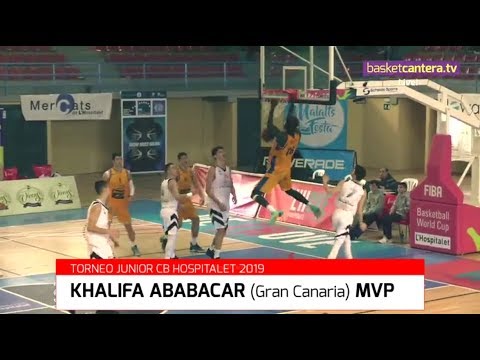 HISTORY
2017/18: Gran Canaria (ACB, Spain)
2018/19: Gran Canaria (ACB, Spain)
2019/20: Gran Canaria B (LEB Plata, Spain)
2020/21: Gran Canaria (ACB, Spain)