PROFILE
BODY/ATHLETICISM: Arapovic is a solidly built 6'9" center. He has good size on his upper body and his legs are strong and well built. His broad shoulders should allow him to add more size and strength in the next few years. He is an average athlete at best, and has slow feet and lateral quickness.

SHOOTING: Technically his shooting action is fundamentally sound. He does have a low release point on his shot that causes him to use too much arm. His follow through is consistent and he has a soft touch. He really likes to Pick N'Pop off ball screens and has the ability to knock down the open 3pt shot, although he was only 3/16 in 3 games. His pro position is going to be at PF so it is essential that he improves his jump shot and quickens up his release so he can consistently knock down the long 2pt or 3pt shot and keep the defense honest.
POSITION OFFENSE:
Offensively Arapovic is very skilled for his age and size, but with limited athleticism plays more below the rim than above it. He has good hands and a soft touch around the basket where he converts a lot of his baskets. He does not possess a go-to-move in the low post and this is a part of his game that he needs to develop. He tends to be able to use his strength and size to get position down low at this level. He did show a nice right hand jump hook out to 8ft which was very smooth. When under the basket he tends to shy away from contact and finishes off balance. He needs to learn how to use his strength to be able to absorb contact and finish through his defender. He only shot 50% from the field and this was a big reason why. He has a slow first step when attacking the basket off the dribble in 1v1 situations. At this level he is able to beat slower defenders but when he is facing more athletic, quicker players he will struggle to get any advantage.
DEFENSE/REBOUNDING:
He is an above average defender inside due to his size and strength. He has a good sense on when and where to be on the court and is able to recover to help positions. His lack of lateral quickness and slow feet hurt him when guarding on the perimeter, whether it is in ball screen situations or in 1v1 situations, especially against a smaller, quicker player. His lack of athleticism will make it difficult for him to become a good defender at the next level. Rebounding is one area where he excels, averaging 10.7 boards per game. He attacks the glass hard and uses his lower body strength to get in better position than his opponent. His good ability to use his strength to rebound will be a skill that should translate well to the next level for him.
MISCELLANEOUS:
Arapovic has a good basketball IQ and a nice feel for the game. He has a lot of experience in underage European Competitions. His offensive ability to score inside and his general instincts are all intangibles that will help him out as he progresses to the next level.
OVERALL RATING
: His lack of athleticism and quickness is a part of his game that may limit how good of a player he can develop in to. At the U18 level he can dominate offensively with his basketball IQ and size but once he progresses to the next level and has to match-up with players who are as big and strong as him but are a lot quicker and more athletic he may struggle to be as effective. He has a bright future ahead of him and will be a good player here in Europe for years to come, but his ceiling is very limited to becoming one of the very best.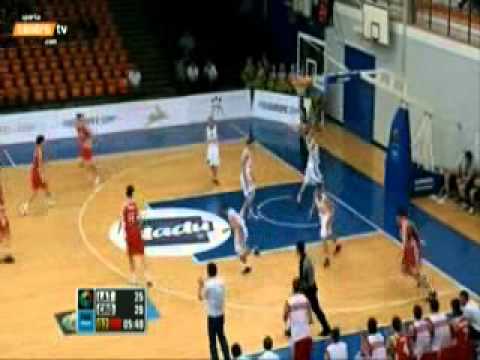 HISTORY
2010-2011: Cibona Zagreb (Croatia)
2011-2012: Cibona Zagreb (Croatia)
2012-2013: Cibona Zagreb (Croatia)
2013-2014: Cibona Zagreb (Croatia)
2014-2015: Cedevita (Croatia)
2015-2016: Cedevita (Croatia)
2016-2017: Cedevita (Croatia)
2017-2018: Cedevita (Croatia)