PROFILE
By Jordan Sensi

Body / Athleticism
Standing at 6'3 at only age 16 Ntilkina already has a good size for the position and he did not stop growing up. Furthermore, his length is impressive such as his wingspan. He is not the fastest guard but he is able to change his speed well enough to beat his opponent everytimes. He is not an explosive guard too, his lateral quickness is below the average and he prefers playing a low-tempo game. But, considering his physical measurements, his potential is huge, mainly after building up a decent frame.

Offense
With his offensive game, Ntilikina is so different from the other French young guards. He is a floor general with a very high basketball IQ. He is always under control, and runs his team well with playmaking abilities, a passing first mentality and a satisfying court vision. Also, Ntilikina is a very good outside shooter, mainly in catch and shoot situations. His movements off-the-ball are usually very good and he is a constant threat for a defense. Taking his consideration these offensive abilities with his physical features, he is able to play at the shooting guard position too. Finally he is obviously a good player in pick-and-roll situation and he is able to attack the close-outs even if it looks like he does not like doing that and often concludes with a floater.

Nevertheless, his ball-handling is good but not great which is a problem because he can't create his own outside shoot, and his ball protection when he attacks the rim is clearly not good enough. He also needs to be open to score an outside shoot on a regular basis because his face-up jumper is not reliable.

Defense / Rebounding
Ntilikina is smart and crafty, he knows he is not a great defender and he knows he doesn't own the capacities to stop more athletics point guard, but he knows how to manage to be beaten the less possible times. He understands defense well, and is always in time in helps and rotations and he is a solid defender in transition thanks to great sense of anticipation and placement. However, his off-the-ball defense is not good enough, mainly if he has to run around screens. Finally, he has the bad habits of having his arms down and not on the passing lanes.

Miscellaneous
The young guard have already displayed an impressive maturity in his game. He is very unselfish and he is an efficient player. The problem is he is soft and plays with a low level of intensity.

Overall
Ntilikina is a great prospect. He was the main reason why U16 France played a great collective basketball at the last Eurobasket. This season he is playing in the French espoirs league against players 2, 3 or 4 years older than him and averages about 9 points, 2 rebounds, 2 assists and 1.3 steals in 21 minutes so far. This kid has a bright future, and he will be one of the best young point guards in the next ne couple of years.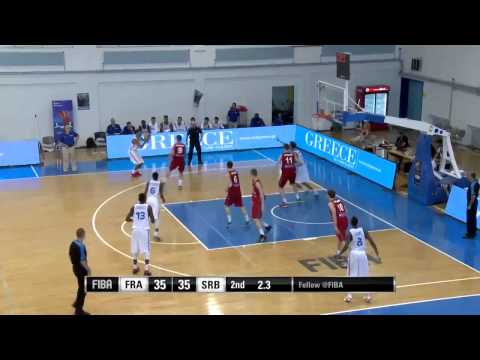 HISTORY
2014-2015: Strasbourg (France)
2015-2016: Strasbourg (France)
2016-2017: Strasbourg (France)