PROFILE
FIBA U19 World Cup - July 2019

Just like at 2018 FIBA European Championship, Petrusev formed a highly efficient scoring duo together with Pecarski, with Serbia putting a major importance on its frontcourt play. He made good use of his big frame and physical attitude to get deep position inside the paint and seal his defender, dealing well with contacts and going often to the free throw line. He showed very good touch around the rim and good passing skills facing the basket, but once again with the national team he was mainly used inside and not allowed to show much from the mid-range or the perimeter. He also ended up as one of the tournament's top rebounder, showing good position and ability to keep his position around the basket. His defensive footwork will need some work.




2017 FIBA Under 18 European Championship Division A
Petrusev had a solid role coming off the bench, even though his playing time went up and down in the tournament. His frame has improved and yet is still far from being filled up, and his mobility is intriguing for a player his size. Showed good touch around the rim, with high release in his hook shot and good footwork in tight space inside, even though he wasn't always aggressive against physical competition. He'll need to work on expanding his shooting range on offense, something which looks like he can do but he didn't show in Bratislava.


Filip Petrusev took the decision to move from Partizan Belgrade to Laboral Kutxa Baskonia over other interesting offers from powerhouses in Europe, in order to grow as a player and as person in one of the most prestigious clubs in Europe. He is for sure one of the most interesting prospects in the old continent. Word potential is written all over his face. Despite being just 15 years old, the Serbian player stands around 6'9 - 7'2 projection- and a body that is still developing and has to fill out in the next years in order to turn into a real weapon playing the center spot.

Petrusev has big upside, that has demonstrated at times at u18 level this season so far, but also struggled when he had to play against more physical opponents or more experienced. Filip is a super talented kid, so classy, but afraid of contact or playing hard most of the times, not playing the game he has to play as he has been the tallest player in the u18 Basque League. At this stage of his career he prefers to play wide open and look for mid range shoots, where he has fluid mechanics and great percentajes, shooting with his feet set but also with his sweet turnaround shoot that makes most of the times he goes to the post. He prefers to drive to the hoop, showing good versatility and nice handles and finishing with floaters than posting up, where he has good footwork and touch but not the confidence, body and willingness to play hard and play in contact, that it is one of his biggest flaws right now, that has to correct if he wants to reach what his projection says.

It's all about his upside and his talent. Serbian got everything for being an elite player in the next years: size, body and talent shooting, footwork, passing, versatility but needs to stay focused in his career, work hard in the gym, play with passion and mature as a player and as kid.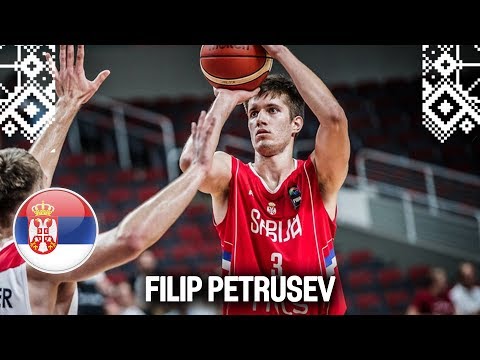 HISTORY
2013/14: Partizan Belgrade (Adriatic League, Serbia)
2014/15: Baskonia (ACB, Spain)
2015/16: Baskonia (ACB, Spain)
2016/17: Avon Old Farms School (USA)
2017/18: Montverde Academy (USA)
2018/19: Gonzaga (NCAA, USA)
2019/20: Gonzaga (NCAA, USA)
2020/21: Mega Bemax (Adriatic League, Serbia)