PROFILE
By Ludovico Basso

Athlete/Body:
Good height and average wingspan. Agile and coordinated in his movements but lacks of verticality and explosiveness. Wide shoulders though he still needs to add some mass to hold his own against opponents at pro level.

Offense:
Petrusev is a skilled big who likes to play back to the basket and sporadically face up.
Has shown glimpses where he's capable of putting the ball on the floor to attack or initiate the offense as well as posting up and use his soft touch to finish around the rim.
Has improved his reads as a passer, can find cutters, pass out of the post or on high-lows with precision and timing.
Thanks to his mobility and IQ, he thrives in PnR actions where he does a good job of rolling hard to the basket or into the post, sealing his defender and putting pressure on the rim. Rarely holds on to the ball, has excellent hands which allow him to quickly catch and finish. However, he can still refine his readings as sometimes he's too concerned with diving to the hoop after setting a screen even when the ball handler is trapped instead of providing an outlet with a short roll. But all things considered, it's safe to say that Petrusev excels in half court sets.
Shows promise as a potential stretch big even if he's not there yet, his shooting mechanics are pretty solid and there are games where he's knocking down shots at a respectable clip from behind the arc, potential that is backed up by his FTs percentage.
On a downside, Filip is not suited to play in a fast-paced environment. He's not an elite rim runner and mostly trails on plays. Even though he's good at establishing position, especially on cross/flex screens, he struggles to maintain it due to his lack of strength both in his upper and lower body. Tends to get pushed around against pro level bigs and heavily relies on his left shoulder to protect his shots from lengthy defenders. Additionally, due to his style of play, he tends to be stationary in proximity of the basket taking away space for drivers and clogging the lane.

Defense:
Petrusev's motor on this end comes and goes throughout the course of the game, which is somewhat understandable because of his high usage.
Compared to his time in Gonzaga, he appears to have improved his lateral movements and ability to slide his feet. Once again, Petrusev's mobility makes him a pretty good defender on PnR actions, where he's able to effectively contain opponents in drop coverage situations. Understands angles and timing on ball screen, can cover quite a bit of ground on shows and flat hedges when recovering.
This being said, he still has ways to go in order to stay in front of guards and defending out on the perimeter against at pro level, can be a liability on switches.
Moreover, his overall physicality has room for improvement. Though he has a knack for the ball on rebounds, he struggles to keep up with gritty players under the glass.
Overall, despite playing as a big, Filip can't be considered a defensive presence in the paint nor a defensive anchor.

Summary:
Any time a 6'11 player has this type of skillset; he automatically becomes an intriguing prospect to say the least. But, in spite of his undeniable talent, due to his limited athleticism and one-dimensional style of play, Petrusev projects as a 2nd round pick at best. Nonetheless, he's more suited to play in Europe and he will a great player down the line.

FIBA U19 World Cup - July 2019
Just like at 2018 FIBA European Championship, Petrusev formed a highly efficient scoring duo together with Pecarski, with Serbia putting a major importance on its frontcourt play. He made good use of his big frame and physical attitude to get deep position inside the paint and seal his defender, dealing well with contacts and going often to the free throw line. He showed very good touch around the rim and good passing skills facing the basket, but once again with the national team he was mainly used inside and not allowed to show much from the mid-range or the perimeter. He also ended up as one of the tournament's top rebounder, showing good position and ability to keep his position around the basket. His defensive footwork will need some work.

2017 FIBA Under 18 European Championship Division A
Petrusev had a solid role coming off the bench, even though his playing time went up and down in the tournament. His frame has improved and yet is still far from being filled up, and his mobility is intriguing for a player his size. Showed good touch around the rim, with high release in his hook shot and good footwork in tight space inside, even though he wasn't always aggressive against physical competition. He'll need to work on expanding his shooting range on offense, something which looks like he can do but he didn't show in Bratislava.


Filip Petrusev took the decision to move from Partizan Belgrade to Laboral Kutxa Baskonia over other interesting offers from powerhouses in Europe, in order to grow as a player and as person in one of the most prestigious clubs in Europe. He is for sure one of the most interesting prospects in the old continent. Word potential is written all over his face. Despite being just 15 years old, the Serbian player stands around 6'9 - 7'2 projection- and a body that is still developing and has to fill out in the next years in order to turn into a real weapon playing the center spot.

Petrusev has big upside, that has demonstrated at times at u18 level this season so far, but also struggled when he had to play against more physical opponents or more experienced. Filip is a super talented kid, so classy, but afraid of contact or playing hard most of the times, not playing the game he has to play as he has been the tallest player in the u18 Basque League. At this stage of his career he prefers to play wide open and look for mid range shoots, where he has fluid mechanics and great percentajes, shooting with his feet set but also with his sweet turnaround shoot that makes most of the times he goes to the post. He prefers to drive to the hoop, showing good versatility and nice handles and finishing with floaters than posting up, where he has good footwork and touch but not the confidence, body and willingness to play hard and play in contact, that it is one of his biggest flaws right now, that has to correct if he wants to reach what his projection says.

It's all about his upside and his talent. Serbian got everything for being an elite player in the next years: size, body and talent shooting, footwork, passing, versatility but needs to stay focused in his career, work hard in the gym, play with passion and mature as a player and as kid.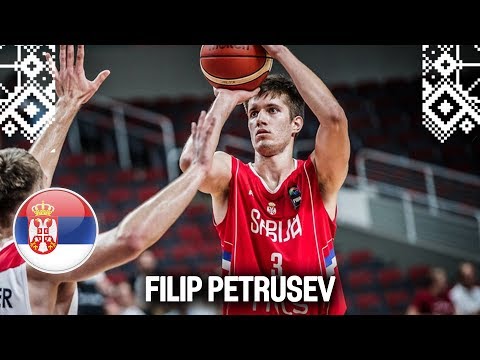 HISTORY
2013/14: Partizan Belgrade (Adriatic League, Serbia)
2014/15: Baskonia (ACB, Spain)
2015/16: Baskonia (ACB, Spain)
2016/17: Avon Old Farms School (USA)
2017/18: Montverde Academy (USA)
2018/19: Gonzaga (NCAA, USA)
2019/20: Gonzaga (NCAA, USA)
2020/21: Mega Belgrade (Adriatic League, Serbia)