PROFILE
January 2021
By Ludovico Basso

Athlete/Body:
Good size and wingspan, has grown another couple of inches so he currently stands at about 6'5. Not an elite athlete but he's underrated in this regard, lacks of explosiveness and burst but knows how to change speed and use his body to absorb contact. Still needs to add some mass but has a pretty well-rounded body, appears to have solid core strength.

Offense:
Despite playing against EuroLeague teams, Jokubaitis has shown terrific playmaking abilities and the potential of scoring at 3 levels.
Effective in PnR actions, makes the right reads more often than not, can find the roller or hit the weak side shooter. Possesses a wide array of passing skills: on top of the defenders, one-hand off the dribble, pocket passes, pitch aheads, you name it.
You can see him occasionally throw wild passes out of target but his overall feeling for the game and creativity, even in the open court, are excellent. Moreover, he can turn the corner on ball screens which allow him to create shots for himself and others, projects as a great player in Horns and 5-Out sets. Excels as a slasher; he's not scared of attacking close outs, getting into the lane and finishing through contact or using floaters to shoot over bigs.
Rokas' shooting mechanics are also very solid, he projects as a great shooter both off on pull-ups and from standstill. This part of his game allows him to be efficient while playing off the ball as he can spot up and cuts with intensity even when he's being used as a decoy or in false motions.
Left-hand dominant at this stage, will have to improve his right hand to be less predictable as he transitions into a bigger role. Additionally, though he does a good job of attacking the basket, the absence of burst makes it tough for him to get by defenders in 1v1 situations when isolated on an island.

Defense:
Jokubaitis is a high-motor, willing defender. Puts pressure on the ball and never gives up on the play. Still needs to improve his awareness, when rotating off the ball he can get lost at times, especially when he has to sink or x-out, but it's part of the learning curve.
Does a pretty good job of sliding his feet when he has to keep up with quick guards, but his lateral movements will have to improve in order for him to stay in front elite athlete at NBA level.

Summary:
Rokas' athletic tools and upside are the reasons why he's currently flying under the radar when discussing the top international prospects. But even though he does not play a flashy brand of basketball, considering his age and the level he's facing, his maturity and IQ are outstanding. Plays with energy on both ends and has shown steady improvement in his decision-making, he's a reliable shooter and can play as primary or secondary ball handler.
Despite being a limited athlete, anytime a young prospect displays such skill set and intangibles at an early stage, you have to believe he will be able to translate his game even among the best athletes on the planet.
For these reasons, I believe Jokubaitis will be just fine at NBA level.

FIBA U19 World Cup - July 2019

In a deep Lithuanian team which ended up in 4th place, Jokubaitis was the main emotional leader and the main reference in his team offense. Able to play at different speed, he was comfortable pushing the ball in transition, taking advantage of wider space to create both for himself or his teammates; he struggled more when opponents had time to put pressure on him, particularly against guards with elite physical and athletic profiles. He still did a nice job operating on the P&R in the halfcourt, easily setting his teammates up thanks to his high-level vision and quick passing decisions. Didn't always take over from a scoring standpoint, but his shooting skills and his ability to finish with contact were on display.




2017 Basketball Without Borders Europe
Named 2017 BWB Europe MVP. Still mostly a scorer rather than a distributor, the quick shooter from Lithuania has a natural feel for the basket and high-level confidence. Able to play both and off the ball, scored jumpers from all over the court and was always effective creating separation with his defender. Further improving his feel as a passer would be an important step.

2017 FIBA Under 19 World Cup
One of the most pleasing surprises at this level of competition was Jokubaitis, a guard who was two years younger than the competition in Egypt. A lefty shooter and deceptive ball-handler, he showed impressive confidence for a player his age and looked like he wasn't feeling the pressure of the event. Jokubaitis has impressive shooting skills and confidence both off the catch and off the dribble, showing deep range and never losing his mind even after consecutive misses. He finished the tournament shooting 39.4% from three point range and averaging 5.3 assists while playing lot of minutes as a point guard.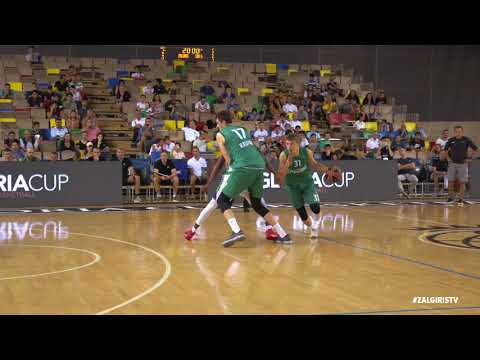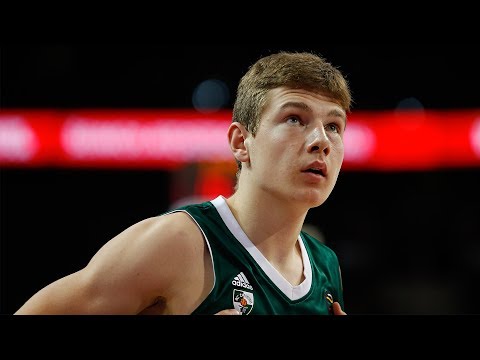 HISTORY
2016/17: Zalgiris Kaunas (Lithuania)
2017/18: Zalgiris Kaunas (Lithuania)
2018/19: Zalgiris Kaunas (Lithuania)
2019/20: Zalgiris Kaunas (Lithuania)
2020/21: Zalgiris Kaunas (Lithuania)