PROFILE
Romanian 1st Division - January 2021
By Reinaldo Bessa
Despite being the youngest player in the competition, Somacescu wasn't intimidated by the level of the competition. In a span of ten games with Cluj-Napoca first team, he was a key piece on the rotation displaying a solid set of guard skills on both ends of the floor. On the offensive side showed a tremendous ability to create for others and to play as a true point guard being a three level scorer and tools to play off ball. On the defensive end, he showed his amazing ability to read passing lines and to help from the weak side. His performances stood out as he earned more minutes as games went on.
U16 Championship Romania - January 2021
By Reinaldo Bessa
Tudor played a key role on his team who finished third in the competition. He had to play a more of a creator role than score-first guard given the attention he was attracting by his opponents. He excelled at moving the chains at the point guard spot thanks to his vision which allowed him to create open looks for his teammates. Despite this role, his natural scoring ability still showed up. On the defensive end, his skills and size played a big role on his team.
FIBA U16 European Championship Division B - August 2019
By Luka Drca
Youngest player in the tournament, still skinny but with promising frame, good length. Huge personality for his age, handles the ball, takes responsibilities. Smart with the ball, under control. Crafty slasher, has different solutions to score. Can pull up easily. Shot looks ok but didn't go in in the tournament. Averaged 10 points, 4.3 rebounds, 2.7 steals.
EYBL U14 in Italy - March 2019
Somacescu is a talented 6'0 swingman with skinny frame and wide shoulders, who loves to handle the ball, attacking in early transition and finishing through traffic. He makes good use of crossovers and hesitation, attacking the rim with explosiveness using both hands to score from around the rim. Shooting efficiency comes and goes, his release looks good but he lacks strength in his legs.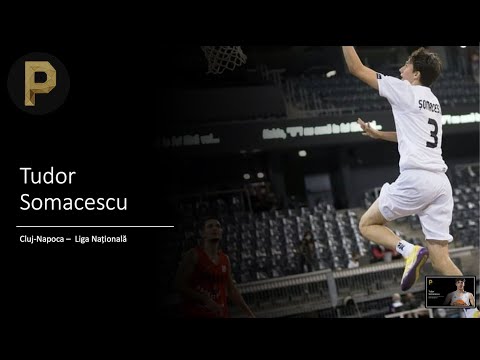 HISTORY
2019/20: U-BT Cluj-Napoca (Romania)
2020/21: U-BT Cluj-Napoca (Romania), then moved to Sierra Canyon (USA)
2021/22: Overtime Elite (USA)