PROFILE
ANGT Munich- January 2023

Great tournament for Demin at many levels. He had an enormous shooting game against ALBA Berlin and, during the whole tournament, he displayed his top-tier defense manipulation ability both in pick&roll or second-side actions. His shooting versatility jumps off the page: NBA range, elite self-creation ability and motor and promising fluidity to come off screens or hand-off situations. He showed a higher level of aggressiveness than in L'Hospitalet and acted as one of the main voices of Real Madrid: he talked a lot to his teammates, even when he was sitting.


Torneig L'Hospitalet- December 2022

Egor Demin has left mixed feelings in this tournament. On the one hand, he showed why he's one of the most skilled and promising guards in Europe: he was able to hit shots both off the dribble and in spot-up situations proving to be the player with the most refined shooting technique in the event. Also, he did excellent passes acting as the pick&roll ball-handler displaying elite angle manipulation and great touch, running the game at his own pace. On the other hand, it was often frustrating to see him being a little too passive: a tall ball-handler with high-level creation skills and three-level scoring upside should be willing to take more risks.

General overview- November 2022

Egor Demin is a rangy perimeter player who can slide between the primary and secondary ball handler role. His best skill is three point shooting: he is able to shoot it both off the dribble or off the catch and has improved his mechanics, so right now his transference is much more natural. He doesn't force things on the offensive end: has the talent to read passing lanes with ease and create good windows for his teammates. He is also is good slowing the pace of the game and feels familiar with the mid range spots to pull up or take a floater.

On the defensive end Egor Demin has done major improvements during last months. He has much better motor than last season and is able to repeat efforts with much more frequency. He also has worked on his defensive stance and opponents don't beat him so easily. No longer a liability. Has the length and instincts to develop as a solid nail helper.

U14 Russian Regional Championship - September 2020
By Biel Colominas
Demin has good size for a wing and his body is skinny and undeveloped, even though he is narrow framed. Very coordinated and fluid, looks natural with his moves on the ball. He loves involving his teammates with impressive court vision and timing as a passer, finds the weak side and can pass off the live dribble. Strong hand dominant attacking the basket, he utilizes smooth right-handed floaters. Although his shooting mechanics aren't consistent yet, he has pretty good touch and shows some interesting actions hitting shots off the dribble. Bad attitude on defense, poor commitment and motor when guarding the ball, he is always beaten on one-on-one.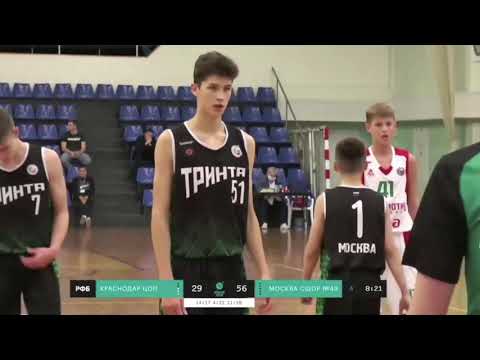 HISTORY
2020/21: Trinta Moscow (Russia)
2021/22: Real Madrid (Spain, ACB)
2022/23: Real Madrid (Spain, ACB)
2023/24: Real Madrid (ACB, Spain)