PROFILE
Body/Athleticism
Tisma possesses an awesome lanky body and seems that he will add more inches to his remarkable size. His wingspan is also noteworthy but his arms are very thin and not strong at this point though. His long lower body is gaining strength little by little but miss athleticism and leaping ability. In the other end, he is very coordinate and is matter of time that he adjust his basketball skills to his body.

Shooting
A big time shooter budding. All related with his shooting tools are unusual for a kid of his age, mechanics, percentage, release, shooting arch and stroke. The speed of his jumpshot is good but is not at the same level of the other aspects of his shooting. He is able to shoot from long range and feels comfortable shooting off the catch but has no problem to take shots off the dribble.

Position Offense
A shooting guard for his offensive tools, all his offensive game starts from his shooting menace. Tisma is still weak to drive to the basket in a solid way and needs time and space to finish successfully. His court vision and passing skills are good but he is a bit static off the ball. He is not quick to take advantage in transitions and needs to play with good facilitators to take his shots.

Defense/Rebounding
Lack of strength is a problem for him to guard players of his size and he is not quick enough to stop perimeter players but he pays off with smartness using his wingspan. Once he improves his athleticism he should fix his defensive problems.

Miscellaneous
Tisma was signed by Real Madrid from KK Dubrava, a small team in his hometown. He played with Croatia NT at U14 Slovenia Ball tournament.

Overall Rating
Boris Tisma is a lefty shooting guard with great size and elite shooting tools but needs time to adjust his body and gain athleticism.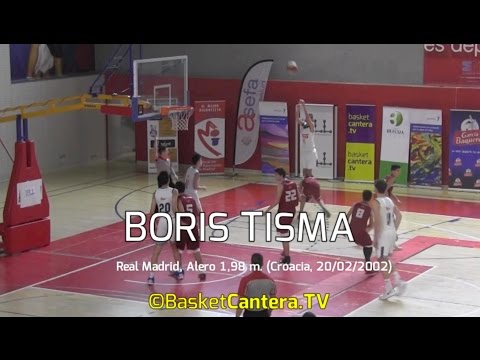 HISTORY
2015/16: Real Madrid (ACB, Spain)
2016/17: Real Madrid (ACB, Spain)
2017/18: Real Madrid (ACB, Spain)
2018/19: Real Madrid (ACB, Spain)