PROFILE
Fred Olsen Tournament - December 2019

Tisma worked a lot on his body and is now stronger. He is bigger and didn't lose any of his mobility but his athleticism is still below average. Shows a great feel for the game, especially as a shooter with a quick and natural release. He is less uncomfortable finishing near the rim; now is able to absorb more contacts and finish with two hands with a great touch in the lane. Madrid gave more responsibilities as a facilitator and was able to execute some pick and roll sets as a handler but still looks underused. Also was productive in the low post as a passer. Improved also as a rebounder, chases the boards with more desire, especially in the offensive board, and his size helps him in this area but his lack of athleticism limits him.


Basketball Without Borders 2019 - June 2019

Tisma had another good showing in Riga, having once again the chance to display his combination of size and ball skills. His frame is still undeveloped, he's skinny and doesn't deal well with contacts; the mobility, coordination and body control are very good for his size, he moves very well despite lacking above average explosiveness. He's comfortable handling the ball on the perimeter and has good vision and passing skills for a forward; his game is clean and fundamentally sound, but he tends to be passive on the court. Tisma is a lefty shooter with natural three-point range and quick release, he hit shots at a good rate in Riga, often taking what the offense was leaving him and not playing with much aggressiveness. Terrific shooter coming off screens, has excellent footwork for his size. He tends to be too shy on offense though, rarely taking over in a way his offensive talent would allow him.


U18 Spanish Championship - May 2019

By Biel Colominas

Lefty forward with really good length; still undeveloped and skinny body though. Tisma played far from the ball, being basically used as a spot up shooter. He has elite shooting tools for his age: consistency, fluid and quick release, high point and deep range. He proved to be lethal from beyond the arc as he finished with 15/38 (39,4%) from the 3-point line. He has above average ball skills given his size, lacks explosiveness to create his shot though. He shies away of contacts. Needs to work a lot on defense: slow lateral mobility to guard smaller players, and he can't handle stronger players near the basket.


Adidas Next Generation Tournament Munich - January 2019

By Luka Drca

6'9 wing with long arms. Skinny with solid body frame. Lefty shooter with good shooting mechanics. Finishes with both hands. Solid athlete. Has a good basketball IQ. Moves well without the ball, shows to be improved since last year. Not forcing shots but he is lacking aggressiveness. Has ability to shoot from deep. Has a mid-range game as well. Using his length on the defensive end. Needs to work on his body strength and explosiveness. Sometimes he looks not interested to play. However, Tisma is one of the best shooters in his age and has great potential.



Body/Athleticism
Tisma possesses an awesome lanky body and seems that he will add more inches to his remarkable size. His wingspan is also noteworthy but his arms are very thin and not strong at this point though. His long lower body is gaining strength little by little but miss athleticism and leaping ability. In the other end, he is very coordinate and is matter of time that he adjust his basketball skills to his body.

Shooting
A big time shooter budding. All related with his shooting tools are unusual for a kid of his age, mechanics, percentage, release, shooting arch and stroke. The speed of his jumpshot is good but is not at the same level of the other aspects of his shooting. He is able to shoot from long range and feels comfortable shooting off the catch but has no problem to take shots off the dribble.

Position Offense
A shooting guard for his offensive tools, all his offensive game starts from his shooting menace. Tisma is still weak to drive to the basket in a solid way and needs time and space to finish successfully. His court vision and passing skills are good but he is a bit static off the ball. He is not quick to take advantage in transitions and needs to play with good facilitators to take his shots.

Defense/Rebounding
Lack of strength is a problem for him to guard players of his size and he is not quick enough to stop perimeter players but he pays off with smartness using his wingspan. Once he improves his athleticism he should fix his defensive problems.

Miscellaneous
Tisma was signed by Real Madrid from KK Dubrava, a small team in his hometown. He played with Croatia NT at U14 Slovenia Ball tournament.

Overall Rating
Boris Tisma is a lefty shooting guard with great size and elite shooting tools but needs time to adjust his body and gain athleticism.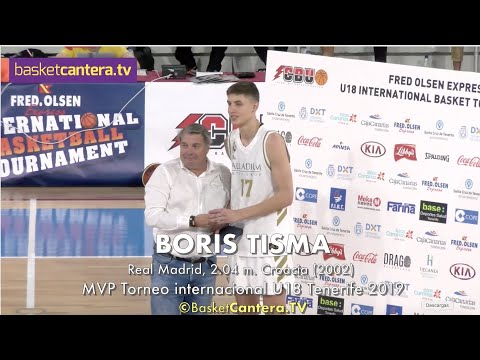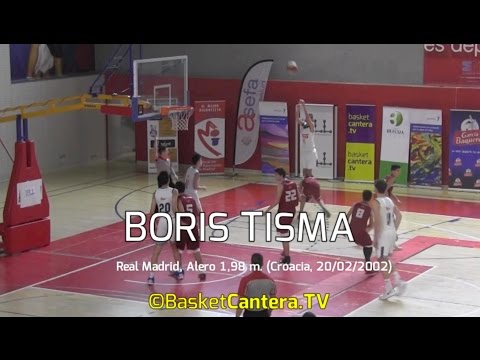 HISTORY
2015/16: Real Madrid (ACB, Spain)
2016/17: Real Madrid (ACB, Spain)
2017/18: Real Madrid (ACB, Spain)
2018/19: Real Madrid (ACB, Spain)
2019/20: Real Madrid (ACB, Spain)
2020/21: Real Madrid (ACB, Spain), then loaned to Betis Sevilla (ACB, Spain)
2021/22: Studentski Centar (Adriatic League, Serbia)