PROFILE
By Ludovico Basso

Body
Elite size and wingspan. Not freaky athletic but he's crafty and stronger than it looks. Still needs to add some muscle mass and can improve his quickness, explosiveness and verticality but promising athlete overall considering his young age. Fluid in the open court, can run end to end very smoothly and he's coordinated on change of directions.

Offense
Likes to take defenders off the dribble in 1v1 situation and on close-outs, takes it hard to the rim and likes to finish with authority. Understands court spacing and more often than not he's making the right readings and cuts. Has point-forward instincts as he likes to push the ball in transition and find the open man thanks to his remarkable Basketball IQ and feel for the game.
Mostly finishes below the rim but has great touch, creativity and ability to absorb contact which should help him translate his game to NBA level.
He doesn't play as a big, this is evident by how he sets screens and rolls to the basket, at the same time he still has to implement an outside shot which is his biggest weakness at the moment as well as pulling up off the dribble.

Defense
Prkacin is fairly active on this end and has good motor, at this stage he's much better guarding the interior thanks to his lengthy arms and mobility for his size than guarding on the perimeter.
He has shown flashes of being a versatile defender thanks to his understanding of the game and quick hands but can't be considered reliable yet.
Once again, he does not have the instincts of a big and, at times, he avoids putting his body in front of opponents while boxing out and going for rebounds.
To sum up, in order to defend at a high level, he will need to improve his overall quickness when sliding his feet as well as adding some weight in his upper body which should help him get more confident when playing through contact.

Summary
Roko Prkacin has a unique combination of talent, size and feel for the game. The biggest flaw in his game right now is lacking an outside shot which would help him stretch the floor and adapt to the highest pro level. He will need to work on his body and athleticism to keep up with the best athletes but all things considered, he packs basketball intangibles and feel for the game not easy to find in a 18 year old kid.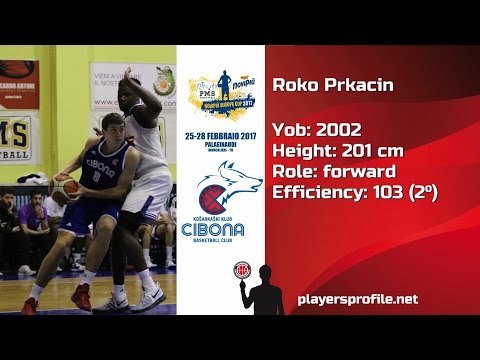 HISTORY
2016/17: Cibona Zagreb (Adriatic League, Croatia)
2017/18: Cibona Zagreb (Adriatic League, Croatia)
2018/19: Cibona Zagreb (Adriatic League, Croatia)
2019/20: Cibona Zagreb (Adriatic League, Croatia)
2020/21: Cibona Zagreb (Adriatic League, Croatia)